07.03.2017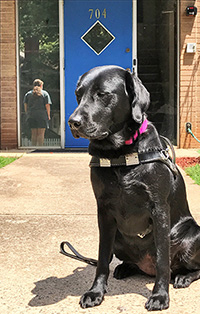 Hope Clontz, professional Braille Transcriber on the Accessible Document Services team since 2009, is a valuable MAB employee not only because of the work she does as a transcriber, but because she keeps the staff in tune and sensitive to those living with vision loss. As a Braille Transcriber she creates, edits and quality checks documents every day that allow someone who is blind or visually impaired to independently read a wide range of print materials that are encountered in everyday life.
Not only does Hope bring the agency her amazing document transcription skills (she can read braille at lightning speed) but she brings her very cute and loyal Guide Dog Reno with her to work each day so we decided to learn a little bit more about this very loving and unique relationship.
Hope's experience with a Guide Dog all started when she graduated from High School and was about to enter college. She traveled from Monroe, NC to Palmetto FL (south of Tampa) to the Southeastern Guide Dog's training school. She quickly learned training is intense and she spent the next 26 days, 6 days a week, 8 hours a day, training with her first dog Muffin.
The first week of training is more basic with nature paths and general obstacles. After that it gets more difficult with more real world scenarios like walking in the downtown area, and going through intersections. Other areas were also covered like shopping malls, restaurants, and walking day vs night because yes, that does make a difference for a dog. Guide Dogs get training at a very early age to prepare them for the important job of guiding a person who is visually impaired. These dogs learn basic obedience, socialization, and they are exposed to everything you can think of (cats, toys, squirrels, and anything else that will prompt them to get distracted). They then enter a period of formal training and in Hope's case her dogs were typically ready for her at about 21-24 months old. By the way, the school that Hope went to is free of charge and they even sent her home with food and heartworm pills for her new best friend!
When asked about her relationship with her Guide Dog (Hope started with Muffin, moved on to Shannon and now has Reno) Hope stated that her dogs, "have built my confidence and make me feel like I am not alone. But, they are still dogs, they are not perfect, and they all have special quirks." She said this with a smile of course.
Hope knew she wanted to work at MAB when she was 8 years old and went through Orientation and Mobility training with one of our instructors, and here she is today. Outside of work Hope likes to travel, take walks, go to the mall and she's a rep for the handbag and accessory line "Thirty-One."
---
« Back