09.28.2017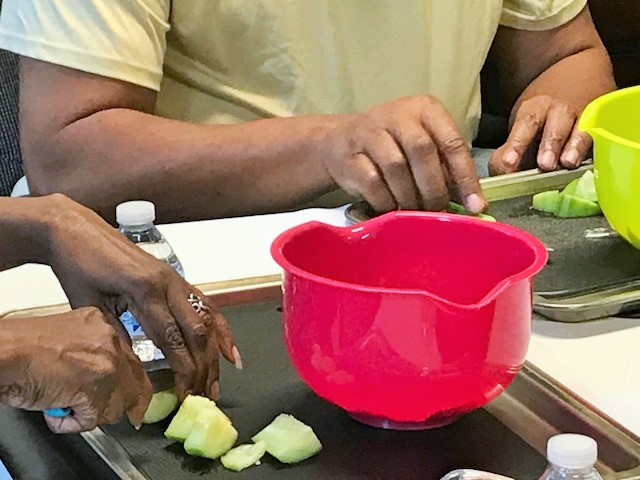 Being blind does not define who I am. I still have value. This was a statement made by one of our Mini Center Group participants as she retold a story about an interaction with someone who didn't understand why she doesn't drive. After sharing this story the floodgates opened up for other participants to talk about the highs and lows they experienced since our last meeting. At this point Mini Center Group only has a few more classes to go. With the impending finish line in sight the participants expressed that they don't want the group to end because it's something to look forward to, and they are able to feel a connection and talk about things they can't share with people outside of the group. Another participant shared how she felt defeated when transportation was 3 hours late picking her up. This experience really took her back to those feelings of anger, depression, and sadness when she first lost her eyesight almost 15 years ago. Another participant told the group how a waitress said, "you don't look blind," after she asked her to read the menu. The group agreed that there are so many stereotypes about blind people. They also agreed that while there are days that are harder than others, there are also great days where you find passion and purpose in your vision loss. When you meet someone new in blindness you become the teacher. From there your world can open up to so many amazing opportunities and recognition. For example, one participant was recently recognized for the amazing work she does for an organization as a visually impaired individual. Another member said he is preparing for a huge presentation in another state on a topic he cares for deeply.
As the day went on the group switched gears to focus on the lesson - cooking and knife skills. With an Adapted Kitchen Program, cooking and using a knife as a blind or visually impaired person can be easy and fun as evidenced by our Mini Center Group during this week's session. One of the participants made sure to tell the group not to let his wife know he's learning how to cook! Before we pulled out the blades and began cutting different vegetables for a pasta salad our Certified Vision Rehab Therapist, Sarah Milledge, reminded everyone to keep it simple, stay organized, and don't go into the kitchen without a plan for what you want to prepare.
The group continued to make a delicious pasta salad that day using a variety of healthy ingredients and along the way Kerri Good, our other Certified Vision Rehab Therapist showed the group different methods and devices to use in the kitchen. She also gave the group multiple safety tips to ensure everyone and their families can have a stress free and fun experience while cooking.
While each person in the group goes through ups and downs in the world outside of Mini Center they sure do have a great time for the few hours they are together each Wednesday. Their laughter can be heard down the hall and everyone around is just a little bit curious about what's going on behind the closed doors. One of the participants said that after 20 years of being blind he is still learning in this class and not only from his teachers but from his peers.
Image of devices to use in the kitchen while cooking
Image of participants hands cutting vegetables for the pasta salad
---
« Back