05.04.2020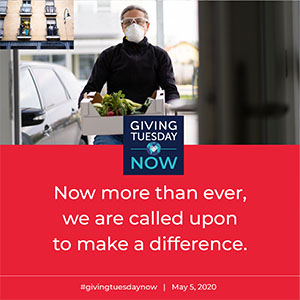 #GivingTuesdayNow
#GivingTuesdayNow is a global day of giving and unity, set to take place on May 5, 2020 as an emergency response to the critical needs caused by COVID-19. The day is designed to drive generosity, community engagement, business philanthropy, and support for nonprofits like Metrolina Association for the Blind, Inc. (MAB). It's a day when we can all come together and give back in all ways, no matter who or where we are.
How can you help? Whether you give your voice, goods, your time, or your money being generous is a way to fight for our blind and visually impaired community now. We are providing ways you can give back today while adhering to public health guidelines and physical distancing.
Below are ways you can give support:
From Home:
Online activities such as research or grant application assistance
Letters of support for caregivers
Art project ideas and kits for kids and adults or things for families to do together
Fundraiser event planning and research
Gift cards for delivery services, audio books or household items
Help with social media, graphic design, general marketing, and website content refresh
Be a brand ambassador by sharing and liking our communications/mission with your social network
Purchase much needed items from our Amazon Wish List https://a.co/1fDCCAM or by providing a financial contribution to the agency for all critical needs
Opportunities for the Future:
General admin work in the office (information packet assembly etc.)
Assisting clients with mail, transportation and other activities in the home – requires a background check and we can assist you with the process
Please contact us today to learn more and see how you can help our community. We appreciate your support!
Some additional ways to support MAB are:
Visit our website for more ideas and ways you can get involved – https://www.mabnc.org

#GivingTuesdayNow is an emergency response to COVID-19 and doesn't change plans to have the traditional GivingTuesday event that will happen on December 1 (the Tuesday after Thanksgiving).
« Back