History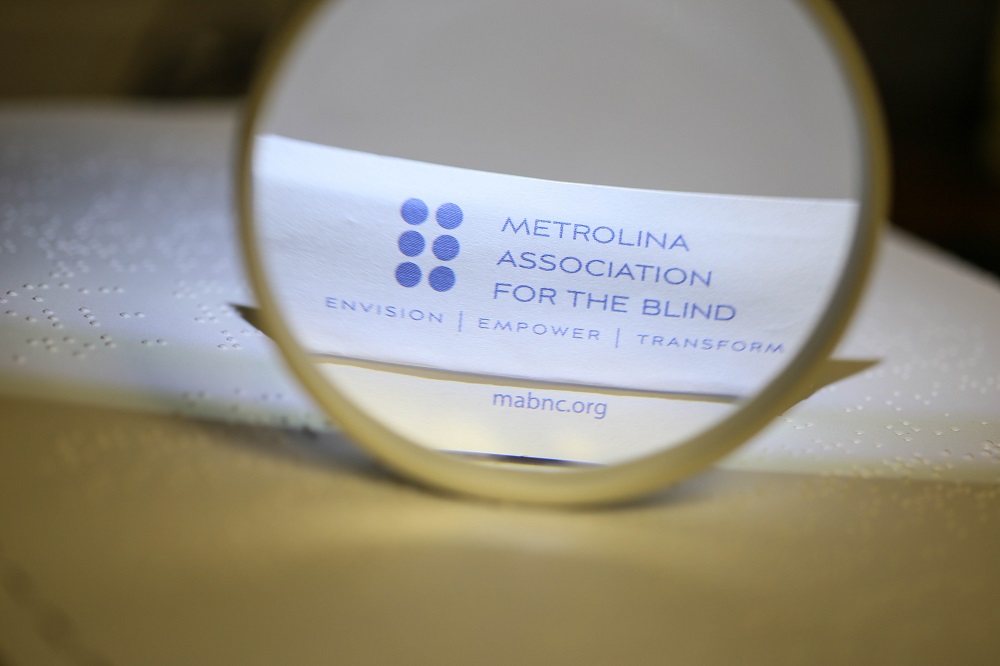 This Page is Under Construction - We appreciate your patience.
---
In 1934, with the assistance of the American Foundation for the Blind and Charlotte, NC area residents including the Charlotte Lions Club, the Mecklenburg County Association for the Blind was formed. The name later changed to Metrolina Association for the Blind, Inc. in 1977.
The original mission of "serving the visually impaired" was established at that time, and in 2016 became "to reduce or eliminate the daily living challenges imposed upon people by blindness or visual impairment." MAB became a member of the Charlotte Community Chest (later United Way of the Central Carolinas) in 1937. The agency moved to its current location in 1967.
Services to the visually impaired increased during those years, culminating in the formation of the Personal Adjustment and Rehabilitation Services department in 1978 (renamed Vision Rehabilitation Services in 2016). The main service areas are Mecklenburg, Cabarrus and Union counties in NC, however any person who is visually impaired may participate in an agency-based service.
In 1985, to support rehabilitation services, MAB created the business-arm of the agency, Accessible Braille Services (changed to Accessible Document Services in 2016). Accessible Document Services provides document transcription in Braille, Large print, Audio CD and Accessible PDF for corporate America.
As of July 2019, due to a change in alignment, MAB is no longer a recipient of funding via the United Way of the Central Carolinas.
Today, we are a North Carolina based, public non-profit agency that continues to provide Vision Rehabilitation Services to people in our community who are blind or visually impaired and Accessible Document Services to corporations across the United States.
The two main areas of service provided by Metrolina Association for the Blind, Inc. are described below:
Vision Rehabilitation Services (VRS)
Metrolina Association for the Blind, Inc. (MAB) offers a variety of services that help people who are blind or visually impaired improve their quality of life and become more independent. This is accomplished in a variety of ways. Those with remaining functional vision learn to use assistive tools and devices to help them meet their goals and maximize their vision. Those who are completely blind are able to learn daily living skills and utilize non-visual means of meeting their goals. Our highly skilled professional staff develops a personal relationship with every client in order to understand each person's unique needs and to implement an individually designed program that could include any or all of the following services:
Case Management: MAB Social Workers provide intake, needs assessment, counseling, advocacy, and referrals to MAB programming and/or community resources.
Low Vision Optometry: A comprehensive low vision assessment by a Low Vision Optometrist (OD) in the use of low vision devices such as magnifiers, high powered reading glasses, telescopic devices, and electronic magnifiers to manage daily tasks.
Low Vision Therapy: Rehabilitation by a Certified Low Vision Therapist (CLVT), focusing on the use of low vision devices and techniques to maximize remaining vision and improve participation in a variety of activities. Most often this includes reading tasks, but can include other tasks where the person wants to use the vision they have more effectively.Vision
Rehabilitation Therapy: Daily living skills training provided by a Certified Vision Rehabilitation Therapist (CVRT) in areas such as cooking, communication at home or work, managing finances, etc.
Assistive Technology: Training by a CVRT in the use of screen magnification and screen reader computer software, iPad/iPhone, Amazon Echo/Echo Dot, etc.
Orientation and Mobility: Independent travel and cane training provided by a Certified Orientation and Mobility Specialist (COMS).
Support Services:

Transportation
Mini-Center or group training
Support group and individual counseling
Referrals to national and area agencies and resources
Contact us today to learn more about VRS services: 1(800) 926-5466